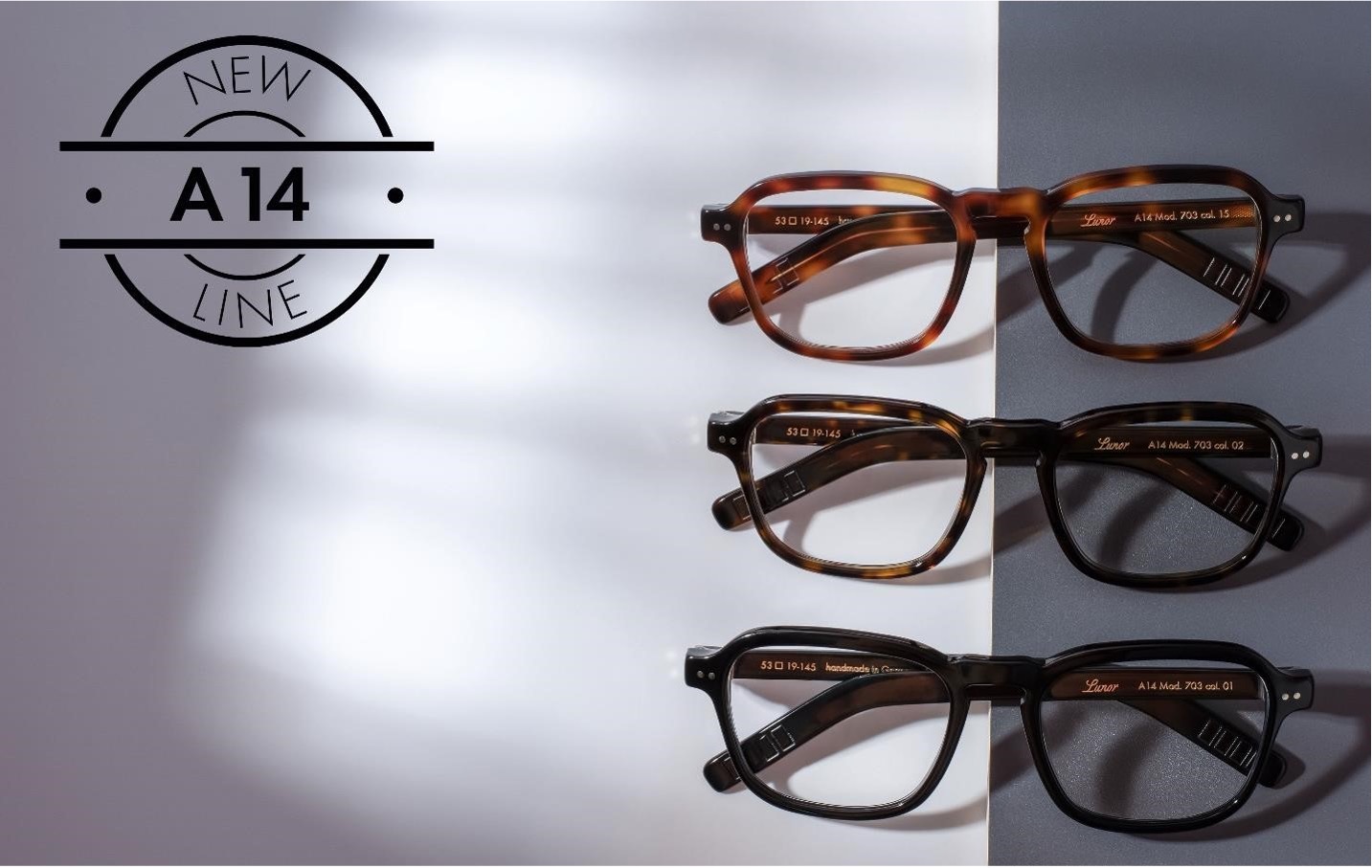 Bold aesthetics à la Lunor
With its new "Bold" collection A14, Lunor treads a new path. The product range with primarily filigree frames is going to be expanded by more striking models from fall. These spectacles, available in the shapes anatomic, square, round, and panto, make a confident statement. There is a choice of acetate frames in the colors Black, Dark Havana, and Havana Spotted. The bayonet-type temples make for a masculine look. In addition, these spectacles are equipped with genuine Lunor rivet hinges that ensure many years of use. Like all spectacles by Lunor, the new A14 models are also handmade by experienced spectacle makers. They provide unique wearing comfort and meet highest quality standards.
Colorful: Bicolor looks for fall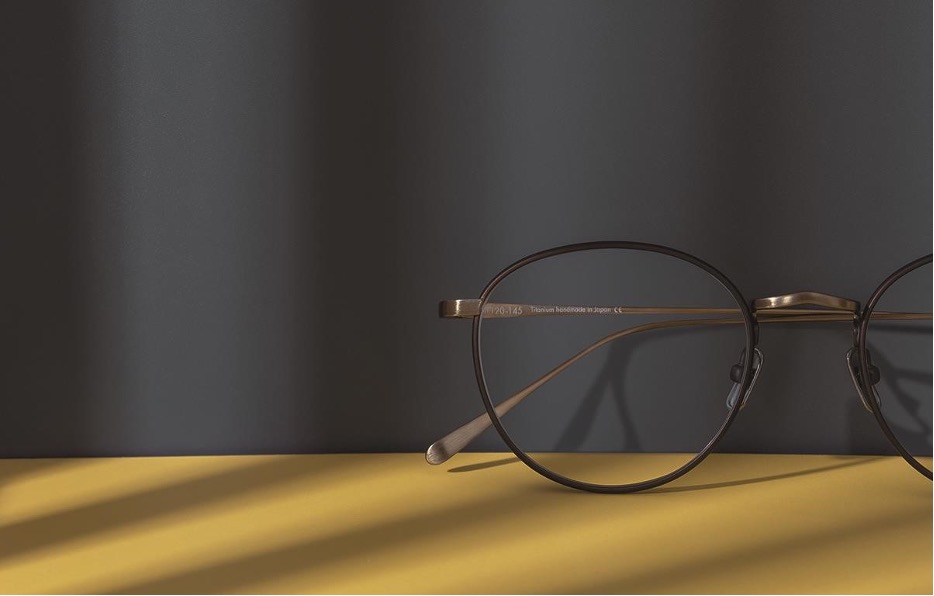 With its reduction to the essentials as well as timeless and minimalistic looks, the M9 08 exemplarily represents the DNA of the manufacture. The 08 model from the popular metal line M9 is expanded by the elegant bicolor shades AG/BR (Antique Gold/Brown), AS/BL (Antique Silver/Blue), and RGS/GN (Rose Gold/Green). The titanium frame, light as a feather, has harmonious lines as well as a delicate use of forms – a subtle eyecatcher on one's face. Reinforced temple ends as well as comfortable titanium pads provide for optimum wearing comfort. All Lunor M9 models are handmade in a small prefecture in Japan under fair working conditions by experienced spectacle makers.
Think big: The Lunor A5 610 in anatomic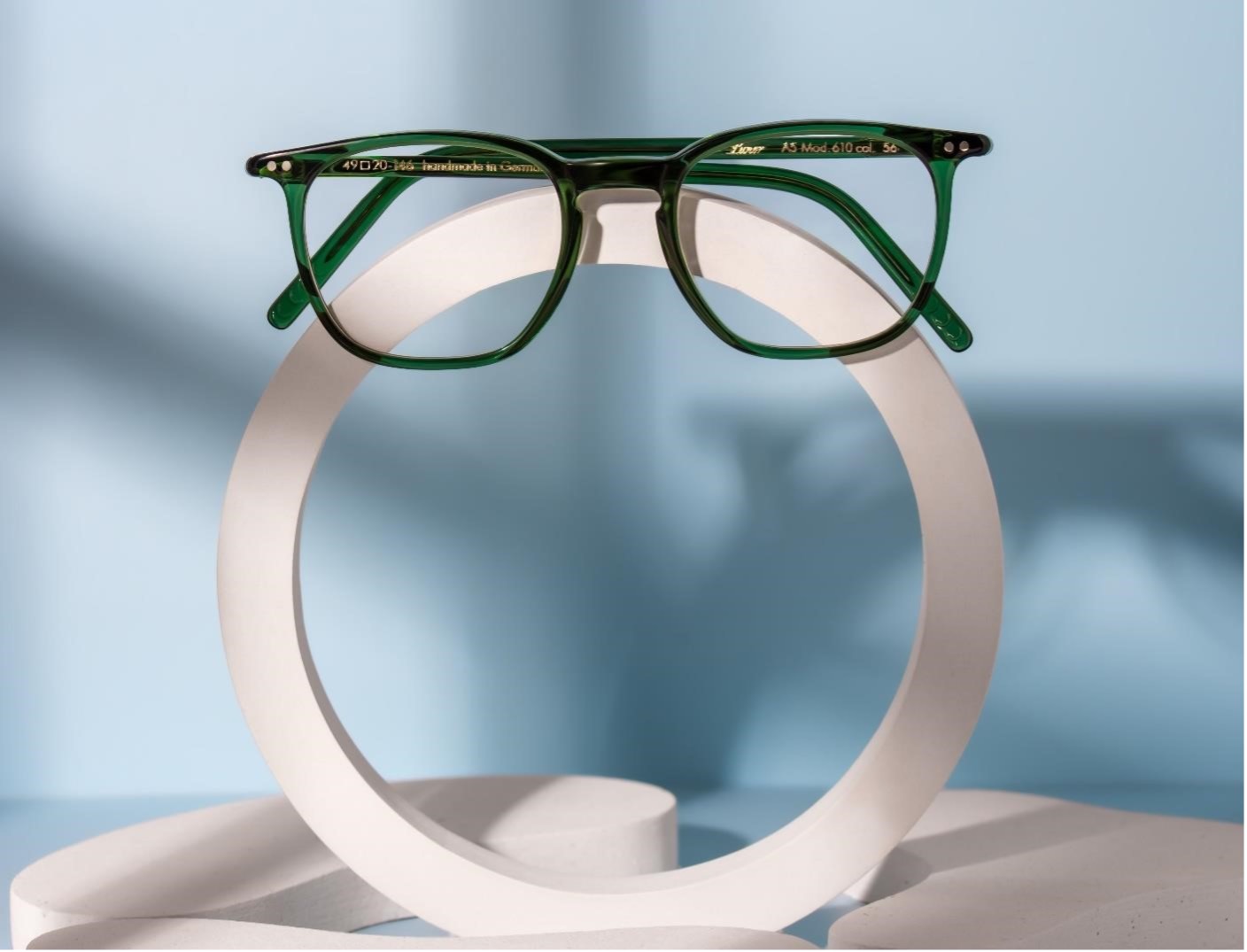 The Black-Forest spectacles manufacture Lunor is renowned for its timeless frames. The A5 line stands for filigree acetate models that are available in a diverse range of colors. For a bolder appearance with characteristic filigree and harmonious workmanship, the A5 610 is available in anatomic shape in six classic color variants as of now.
Matte looks are both a stylish and fine eyecatcher with fashion accessories. They also proved successful for Lunor, so the A5 234 model is going to be dipped in the rich shade
55m Blackberry Matte in fall. Matching the season, the A5 605 is available in bright Black
Forest Green that makes these spectacles a stylish accessory.
About Lunor
Lunor AG is appreciated by spectacles aficionados as a manufacturer of quality. In this, understatement not only characterizes the design of the brand but is also the unspoken mission statement of the company. As a highly specialized glasses manufacturer with an extensive range, Lunor has been producing German-made vintage glasses for over 25 years, gaining international appreciation in the process.
Stars such as Daniel Craig, Johnny Depp, Meg Ryan, and Uma Thurman have all been seen in their Lunor glasses. Apple founder Steve Jobs was also a big fan of the German premium brand. The rimless glasses that he wore without fail for 14 years originated with Lunor, advancing from a niche model to achieve cult status.
The collection also includes antique-looking metal rims, titanium frames, sunglasses, and a broad range of acetate frames in retro design. The creation of each frame requires up to 200 individual steps. This attention to detail is appreciated worldwide. Markets with the strongest sales include the US, South Korea, France, and Japan.
Lunor attaches great importance to sustainability and regionality; and since 2018, is certified as the first climate-neutral company in the spectacles industry. Another milestone followed in the same year: The Lunor Manufaktur Gesellschaft, LUMAG for short, was founded. Sustainably and fair, the stainless-steel Lunor models Classic and M5 are precisely developed and hand-made at our own manufacture in Kämpfelbach, Baden-Württemberg, Germany. Further information can be found at www.lunor.com or at the contact details below.
Press agency LUNOR – c/o Convensis PR | Friedrichstrasse 23b | D-70174 Stuttgart Press team LUNOR | Catharina Schupp | prlunor@convensis.com
+49 (0)711 365337-88